T

hank you for reading every word of this new special report. 
We know your time is important, so let's get right to it. 
You most likely already know that
✪ Roughly 1/2, or 48%, of children on the autism spectrum attempt to elope from a safe environment, a rate nearly 4 times higher than their unaffected siblings.
✪ Between 2009-2011, accidental drowning accounted for 91% total U.S. deaths reported in children with autism between the ages of 14 and younger subsequent to wandering / elopement.
✪ Private special needs swim lessons at Sensory Swim® reduce the chance of your child drowning by more than 88%.

As a parent you want the best for your child and you should never accept anything less. 

But if you have it's not your fault.  

Here's Why... 
"The Ugly Truth About Special Needs Swim Programs"
Hey it's Andrew & Mary of Sensory Swim®. 

Today we are sharing with you in depth what we know first hand about special needs swim programs.

 Below is a picture of us so you can put our names to our faces.



Warning this will shock you.

In 2006 we traveled the country checking out special needs swim programs. 

We noticed one thing in common about every single one of them. 

They had no intention to actually teach their students how to swim.

We sat down and talked at length with these instructors and swim school owners. 

The overwhelming majority of  them said two things over and over again.

✪ Kids with autism and other special needs can't be taught how to swim.

✪ We have no idea how to teach them

On our trip home we kept asking ourselves

✪ How are children suppose to learn how to swim when their instructors don't give them a chance?

✪ Why are these swim schools offering special needs swim lessons if they believe that these kids can't learn how to swim?

So out of necessity Sensory Swim was born.   
"A Special Needs Swim Program That No One Wanted But Every One Needed"
W
e were home for less than a week. 
When we decided to pack our bags and hit the road again. 
This time we had a new purpose.
We stopped at the same swim schools again. 
You know the ones who offered "swim lessons for special needs children"?
We sat down and talked with them about having us come in and actually teach these kids how to swim. 
They laughed at us.
T
he idea of two special educators coming in and teaching students with special needs how to swim was funny to them.
Thousands of swim schools laughed at us. 
We don't mean laugh at us behind our backs. 
They laughed in front of our faces.
They didn't even try to hide it.
But you know what they say... 
First they laugh at you, then they copy you.
I
t seemed like no one was going to take a chance on these kids.  
So we decided no matter what the cost that we would
We quit our jobs as special educators.
Emptied our tiny bank accounts and rented expensive pool space at the YMCA.
Parents got to see with their own eyes that impossible odds set the stage for amazing miracles.
But the YMCA at the time was a faceless corporation. 
They saw the students we were teaching as nothing but dollar signs.
They offered us a huge buyout and we declined. 
So they kicked us out. We were now without a pool.
We had just turned down what many would have called a pot of gold. 
Talk about a swift kick in the a$$
S
ince then they have started a bunch of Sensory Swim Programs. 
With little to no success while using our trademark 
But everybody knows that people invest in people.
Well not everybody. 
The Y is still lacking in that area.
Our team of lawyers want us to sue them for using our trademark. 
But we won't.
Here's why...
Their copy cat programs remind us that  
First they laugh at you then they copy you.
"Sensory Swim® : Underdogs, Misfits, And The Art Of Battling Giants"
If you just found Sensory Swim, let us bring you up to speed.

After the Y hit the eject button we landed in a smaller pool.

After several months they offered us a pot of gold too.

Everyone thinks we are Irish.

It must be our smiling eyes. 

We declined again.

You think we would have learned our lesson the first time. 

Nope.  

Eject button #2 initiated.

When you get knocked down you only have two options.

The first option is to stay down. 

The second option is to conquer the world. 

Can you guess which one we chose? 

The two of us were underdogs. 

Misfits without a pool to call home. 

But we knew the art of battling giants.

Sensory Swim has always been the place where impossible odds set the stage for God's amazing miracles.

In 2011 we finally found our home when word of mouth about Sensory Swim reached Kids First Swim Schools.

Kids First is America's largest provider of year round warm water swimming instruction, operating 24 locations across 5 states, teaching over 100,000 students annually.

Since then we've been turning kids with 
✪ Autism 
✪ Angelman Syndrome
✪ Cerebral Palsy
✪ Down Syndrome
✪ Learning Disabilities 
✪ Pervasive Developmental Disorder
✪ Sensory Processing Disorder 

and a slew of other special needs into swimming machines.

All under the same roof where their siblings are learning to swim.

After all this time your kid will be laughing & we will be laughing. 

Here's why.

We found out that some truths never change. 

First they laugh at you, then they copy you.

That has been Sensory Swim's secret sauce since day one.

When we started this journey a decade ago those swim schools had it all wrong.

They were under the impression that we wanted to be like them.

They didn't know we started this whole journey after reading the following quote 

""I owe my success to having listened respectfully to the very best advice, and then going away and doing the exact opposite."   

We now have two year round locations located in  
Springfield, Virginia
Sterling, Virginia
and have turned over 4,000 kids & counting into swimming machines with our
extremely enjoyable
exceedingly effective
perfectly fitted
private special needs swim lessons
Here's to making your child unstoppable,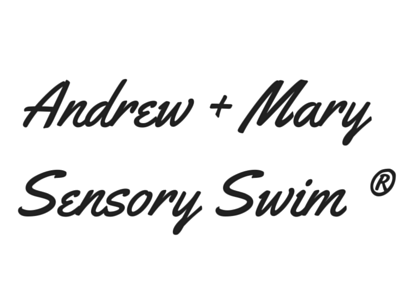 PS. We can't wait to turn your child into a swimming machine.       

Take a moment and read a few of the success stories below.

These are just a small portion of the thousands we have in our possession.

Results are typical ! 
 
"The Consistency We've Been Searching For"
Before Sensory Swim we had tried numereous other swim lessons and none of those instructors were trained or knowledgeable in how to work with children on the autism spectrum.

There was also a very high turnover in instructors even though they were private swimming lessons.

Sensory Swim provides the consistency we've been searching for and Andrew & Mary have great personalities.
 

It gives us a lot of peace knowing they have tons of methods that work with "quirky" kiddos and they know how to expect and deal with the unexpected.

They know their stuff.

Overall, we have been very pleased with the quality of instruction and will continue to work with them as long as we are able to do so.

Charity & Travis | Alexandria, Virginia
---